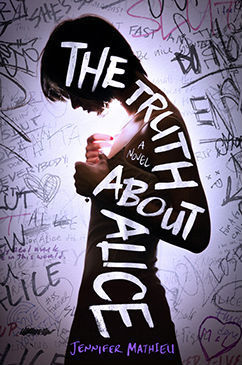 The Truth About Alice
Jennifer Mathieu
Roaring Brook Press
From Goodreads: Everyone knows Alice slept with two guys at one party.

But did you know Alice was sexting Brandon when he crashed his car?

It's true. Ask ANYBODY.

Rumor has it that Alice Franklin is a slut. It's written all over the bathroom stall at Healy High for everyone to see. And after star quarterback Brandon Fitzsimmons dies in a car accident, the rumors start to spiral out of control.

In this remarkable debut novel, four Healy High students—the girl who has the infamous party, the car accident survivor, the former best friend, and the boy next door—tell all they know.

But exactly what is the truth about Alice? In the end there's only one person to ask: Alice herself.
My Review: I would like to thank Netgalley and the publisher for a copy of this book for my honest review.
This book was WOW. That is the only word I could think of when writing this review. Eye-opening and riveting. I thought this book was well written and powerful. This book exposes the aftermath of lies, gossip and bullying. Powerful book and a wonderful read. There are several reasons I think this book is so good.
First, the different perspectives. This story is told by four different people and you get to explore there reasoning and get to know each one of them giving the story more depth.
Second, the realism of this book. I felt like I was in this school, we have all been there. Hearing the rumors about one class mate or another. Never knowing the real story and getting swept up in all the talk. This book makes you remember the cliques in high school and perspective from all sides.
Third, Alice herself, she stays silent in most of the book. Just going about her life or what is left of it as the rumors fly and name calling ensues. We do hear her story and the last chapter is moving and wonderful.
Lastly, I was shocked to find out this is Jennifer Mathieu first book so powerful and well written. I am looking forward to see what else se writes. I love finding new authors to read and this author now has a fan for life.