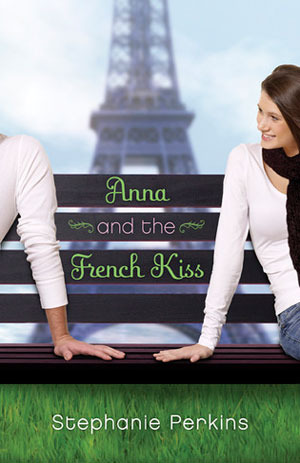 Anna and the French Kiss
Stephanie Perkins
Dutton
From Goodreads: Anna is looking forward to her senior year in Atlanta, where she has a great job, a loyal best friend, and a crush on the verge of becoming more. Which is why she is less than thrilled about being shipped off to boarding school in Paris--until she meets Étienne St. Clair. Smart, charming, beautiful, Étienne has it all...including a serious girlfriend.

But in the City of Light, wishes have a way of coming true. Will a year of romantic near-misses end with their long-awaited French kiss?
My Review: I can explain why it took me so long to read this book. First I do not like the hype machine. I try to avoid books that I see every time you look in a bookstore window because I want to support all authors not just the most popular ones. Second, I never read contemporary before and Romance is not my style. I am a blood and guts kinda gal, but when I saw this for $1.99 at a store I figured "give it a try".
Now, I am starting to warm up to the hype machine.
I loved this book. I did not want it too end and I already bought the next book in the trilogy. Such a touching and emotional story, and set in Paris. An amazing back drop to an amazing book. I felt like I was back there roaming the streets and visiting the areas myself. The love story between Anna and St. Clair was so touching, sweet and frustrating. At some points I wanted to yell at them because it was so obvious but neither one admitted they were falling in love with the other. I was so happy with the end of this book I think my heart grew 3 sizes larger ( like the Grinch)