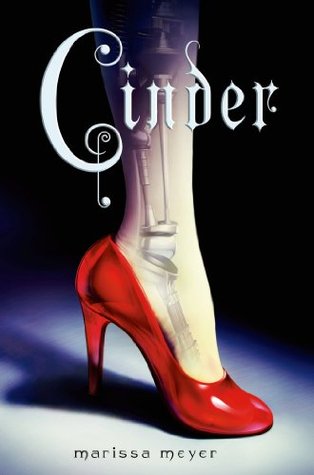 Cinder
Marissa Meyer
Feiwel & Friends
From Goodreads: Humans and androids crowd the raucous streets of New Beijing. A deadly plague ravages the population. From space, a ruthless lunar people watch, waiting to make their move. No one knows that Earth's fate hinges on one girl.

Cinder, a gifted mechanic, is a cyborg. She's a second-class citizen with a mysterious past, reviled by her stepmother and blamed for her stepsister's illness. But when her life becomes intertwined with the handsome Prince Kai's, she suddenly finds herself at the center of an intergalactic struggle, and a forbidden attraction. Caught between duty and freedom, loyalty and betrayal, she must uncover secrets about her past in order to protect her world's future.
My Review: As you know I wait till all the hype of a book is low to read the book. I usually wonder why but I know it is because I do not want to be disappointed in the book. I have not been disappointed yet.
Cinder was a wonderful retelling of Cinderella. I was amazed at the way I was transported into New Beijing. I could feel the fear of people over the plague. I got so lost in this book. The world created by Marissa Meyer was dark and compelling. The writing was magnificent and the flow of the story keeps you enthralled till the end. Now I am starting Scarlet soon I am glad I bought it already, I will be buying the third book soon and like everyone else waiting for the fourth in this amazing series.