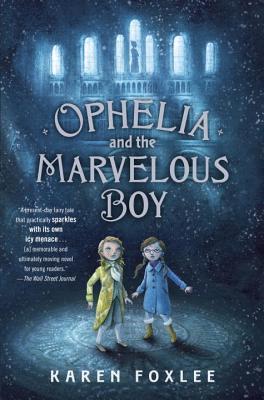 Ophelia and the Marvelous Boy
Karen Foxlee
Alfred A. Knopf
From Goodreads:Unlikely heroine Ophelia Jane Worthington-Whittard doesn't believe in anything that can't be proven by science. She and her sister Alice are still grieving for their dead mother when their father takes a job in a strange museum in a city where it always snows. On her very first day in the museum Ophelia discovers a boy locked away in a long forgotten room. He is a prisoner of Her Majesty the Snow Queen. And he has been waiting for Ophelia's help.

As Ophelia embarks on an incredible journey to rescue the boy everything that she believes will be tested. Along the way she learns more and more about the boy's own remarkable journey to reach her and save the world.

A story within a story, this a modern day fairytale is about the power of friendship, courage and love, and never ever giving up.
My Review: I was given this book from netgalley for my honest opinion.
I enjoyed this book immensely. Ophelia is a powerful heroine as she faces and fights her fears to save the world. (Thank You Ophelia) A young girl who only believes in what science can prove and questions everything, she is confronted with creepy creatures, ghost and an evil villain.
I also enjoyed how the gender roles were reversed in the book. Usually it is the girl who need saving, but Ophelia is the rescuer in this story and The Marvelous Boy is the one who is to be rescued. It shows young girls a role model they can rally behind. The setting of this book was also a wonderful way to incorporate history and magic to keep the fairytale aspects of the story and it's charm. Lastly, I am happy with the way this book dealt with the powerful themes of grief, death and change. These are major issues to deal with in a book geared towards middle graders but this book does it magnificently while staying amusing and a high-spirited story