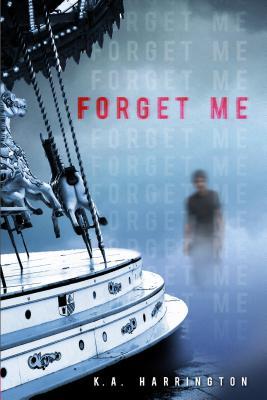 Forget Me
K. A. Harrington
Putnam Juvenile
From Goodreads : On the three-month anniversary of her boyfriend Flynn's death, Morgan uploads her only photo of him to FriendShare to get some closure—but she's shocked when the facial recognition software suggests she tag him as "Evan Murphy." She's never heard of Evan, but a quick search tells her that he lives in a nearby town and looks exactly like Flynn. Only this boy is very much alive.

Digging through layers of secrets and lies, Morgan is left questioning everything she thought she knew about her boyfriend, her town, and even her parents' involvement in this massive web of lies.
My Review : I have to thank Putnam Juvenile for sending me an ARC of this book in exchange for my honest review.
I loved this book. It is the first YA mystery I have read and I could not put it down. When I first read the synopsis of this book I was thinking "Yes this book sounds great. " I was not disappointed. I read this book in two nights. The story was intriguing and I loved how the author used social media in the book. I had a hard time figuring the ending out and I was shocked by the way it ended but also delighted.

I felt for Morgan and her lose I found her to be a sympathetic character and very good character. When your so young and blame yourself for someone's death is an awful burden to carry with you. Morgan was a realistic teen I could understand with a natural curiosity that anyone would have facing the same situation. Evan is another great character and as the story goes on you connect with him too.
The story's flow is wonderful. From the first page you are pulled in and never want to stop reading to see what is going to happen next. Thrilling and suspenseful the combination you want for a great mystery and this is a
Great Read.