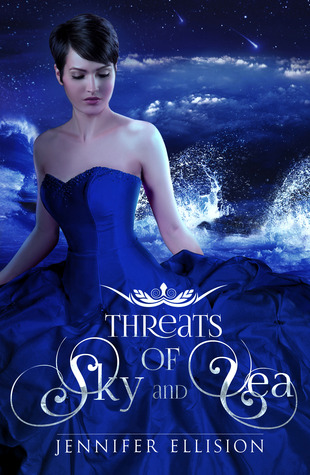 Threats of Sky and Sea
Jennifer Ellision
Createspace
From Goodreads : Sixteen year-old Breena Perdit has spent her life as a barmaid, innocent to her father's past and happily free from the Elemental gifts that would condemn her to a life in the Egrian King's army. Until the day that three Elemental soldiers recognize her father as a traitor to the throne and Bree's father is thrown in jail—along with the secrets from his last mission as the King's assassin. Secrets that could help the King win a war. Secrets he refuses to share.

Desperate to escape before the King's capricious whims prove her and her father's downfall, Bree bargains with him: information for their lives. It's a good trade. And she has faith she'll get them both out of the King's grasp with time.

But that was before the discovery that she's the weapon the King's been waiting for in his war.

Now, time is running out. To save her father's life and understand her own, Bree must unravel the knot of her father's past before the King takes his life– and uses her to bring a nation to its knees. 
My Review: I received a digital copy of this book for free on a read-to-review basis. Thanks to author Jennifer Ellision and Netgalley.
This book was well written and the story is so fast paced you just seem to start it and it is over. I was sad to see this end so soon, but look forward to the next book. I was immersed in the story right away. Feeling like I was beside Breena in the woods as the story opened. Breena is a wonderful character who has all the values you want a young girl to have, She is smart, hard working devoted daughter and she has a conscience. She does not stand by and let things happen to others she takes action. Her love for her father is another wonderful aspect of the story that I enjoyed. The dynamics of their relationship was something I have not seen in many books but something I always look for when reading stories with my children.
Jennifer Ellision has created characters and a world I am looking forward to returning too soon.