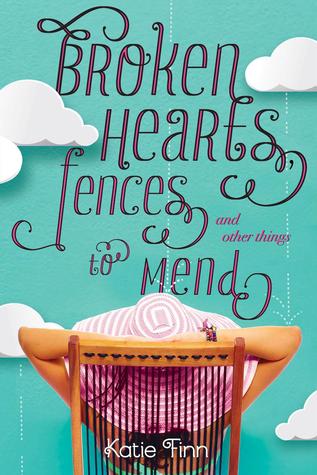 Broken Hearts, Fences, and Other Things to Mend
Katie Finn
Feiwel & Friends
From Goodreads: Gemma had her summer all planned out, but it takes a sharp turn when she gets dumped and finds herself back in the Hamptons after a five-year absence.
Being there puts her at risk of bumping into Hallie, her former best friends (that is, before Gemma ruined her life). But people don't hold grudges forever. Do they?
Gemma intends on making amends, but a small case of mistaken identity causes the people she knew years ago—including Hallie and her dreamy brother, Josh—to believe she's someone else. As though the summer wasn't complicated enough already.
My Review: Every once in a while I read a contemporary story. I am luck that so far I have read some funny and interesting stories. This entertaining and laugh out loud book was my favorite so far. Gemma is a girl who I instantly understood and sympathize with. We have all done things when we were younger that we would change if we could, so I understood Gemma's desire to do just that.
I also felt for her when things started to get tougher for her. The ending of this book just begs for a sequel and I am so happy I am reading the second book in this delightful trilogy .