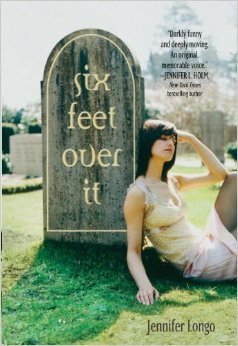 Six Feet Over It
Jennifer Longo
Random House Books for Young Readers
From Goodreads : No one is more surprised than Leigh when her father buys a graveyard. Less shocking is the fact that he's too lazy to look farther than the dinner table for employees. Working the literal graveyard shift, she becomes great at predicting headstone choice (mostly granite) and taking notes with one hand while offering Kleenex with the other.

Sarcastic and smart, Leigh should be able to quit this stupid after-school job. But her world's been turned upside down by the sudden loss of her best friend and the appearance of Dario, the slightly-too-old-for-her gravedigger. Can Leigh move on, if moving on means it's time to get a life?

Darkly humorous and heart-wrenchingly beautiful, Jennifer Longo's YA debut about a girl surrounded by death will change the way you look at friendship, love, and life.
My Review : This book was given to me by Netgalley and the publisher for my honest review and I thank them.
Since I do not read synopsis of book this
was requested for the cover only. When I started to read this book, I was shocked to have my eyes well up with tears threatening to break free. This book was so touching and deals with depression and death. Despite that it is a touching story and helps anyone with a loss in their life. Leigh is such a wonderful character I was drawn to her instantly. This book must be read slowly so you get all the details of the book. What a story I am shocked it is a debut novel, Jennifer has created unforgettable characters that pull on the heart strings and makes you hope for the best. This was not my typical read but I will look for more from this author.