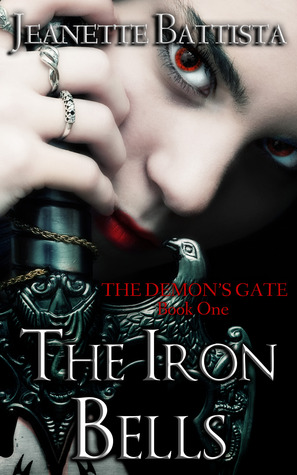 The Iron Bells (The Demon's Gate Book One)
Jeanette Battista
Foreword Literary


The year is 64 A.D. -- though now A.D. stands for Anno Daemonii.
Demons have crossed a gate into our world, taking the reins of power
from humanity. A new Inquisition has begun, determined to root out any
who stand against the new world order. The holy sites on earth have
been destroyed -- Jerasulem first, then the Vatican, then Mecca -- and
what resistance remains is ruthlessly crushed. Amaranth is a fighter
in the resistance cell based in London. Dham is a Ringer, one of the
few people left able to ring the remaining sets of blessed hand bells
that have power over demons. When Amaranth discovers that her best
friend has been possessed by a demon and is going to be used in the
Resistance's final, desperate mission, she asks Dham for his help in
saving her friend. With the Inquisition closing in and betrayal
threatening from inside the Resistance itself, Amaranth, Dham, and the
demon -- along with Catriona, a new, highly-skilled, highly-blonde
bell-ringer -- decide to head to Rome and the ruins of Vatican City,
hoping to find a way to stem the tide of demonic possessions and close
the gate.
My Review: I was given this book by netgalley for my honest review
This book grabs you and never lets you go. Filled with demons and the people who serve them. Amaranth is was orphaned and taken in by the resistance a group of people who protect and help religious people and relics that are now outlawed. I enjoyed the concept and was pulled in immediately. So fast paced I could not put this book down. Now I have to get the second book because this is one series I really want to continue , I rooted for the main characters and suspected everyone.
I enjoyed the character of Amaranth, strong girl and independent a real kick a** girl, but also loyal and loving too her true friends. I understand her dilemma when she feels she is betrayed by the people she trust and the actions she takes to help others.
Great book for all the demon hunters out there and paranormal lovers everywhere