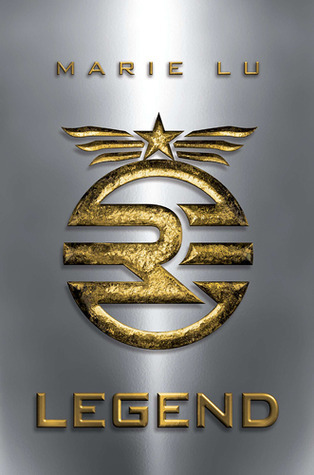 Legend
Marie Lu
Putnam Juvenile
From Goodreads: What was once the western United States is now home to the Republic, a nation perpetually at war with its neighbors. Born into an elite family in one of the Republic's wealthiest districts, fifteen-year-old June is a prodigy being groomed for success in the Republic's highest military circles. Born into the slums, fifteen-year-old Day is the country's most wanted criminal. But his motives may not be as malicious as they seem.

From very different worlds, June and Day have no reason to cross paths - until the day June's brother, Metias, is murdered and Day becomes the prime suspect. Caught in the ultimate game of cat and mouse, Day is in a race for his family's survival, while June seeks to avenge Metias's death. But in a shocking turn of events, the two uncover the truth of what has really brought them together, and the sinister lengths their country will go to keep its secrets.
My Review: Okay, I think I am the last person to read and review this book, but that is fine with me, because now I can read the whole series without having to wait for the books to be published.
This book was a wonderful addition to the dystopian epidemic that seemed to take over YA. For that reason I was a little apprehensive to read this but I am glad I caved and picked it out of my TBR Jar. Fast paced and thrilling only begins to describe this story of June and Day. I am looking forward to getting the next two books in this trilogy.
Day and June are compelling characters to read and I love how the P.O.V changes and we get to see each side of the story. I think most books loose out on that only having one prospective. We as reading don't get all the facts, but this book did it amazingly. I could not put this book down ( yes I thought of calling out of work so I could finish it.) When I did finish it I exhaled (I was unaware I was holding my breath) and said the one word that came to mind WOW!!!
Marie Lu did a great job of roping me in for a long time too come and I will be looking for any books she will write in the years to come.