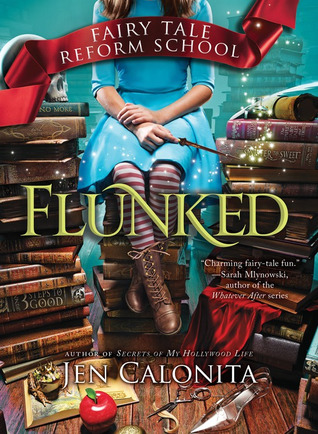 Flunked
Jen Calonita
Sourcebooks Jabberwocky
From Goodreads : Full of regret, Cinderella's wicked stepmother, Flora, has founded the Fairy Tale Reform School with the mission of turning the wicked and criminally mischievous into upstanding members of Enchantasia.

Impish, sassy 12-year-old Gilly has a history of petty theft and she's not too sorry about it. When she lifts a hair clip, she gets tossed in reform school-for at least three months. But when she meets fellow students Jax and Kayla, she learns there's more to this school than its sweet mission. There's a battle brewing and she starts to wonder: can a villain really change?
My Review: I received a free copy of this book from Netgalley for my honest review, I would like to also thank Jen Calonita and Sourcebooks Jabberwocky.
To call this book a fairy tale retelling would not do this wonderful and delightful book justice. This is a fairy tale on its own. Combining several fairy tales and creating a magical world after all the happily ever after's, this amazing story introduces us to a new hero and her name is Gilly. I was delighted to see a middle grade book with such a caring and strong willed character that stands up for what she believes in and faces peril for her friends. This book give younger female reader a unique role model to admire. If we read fairy tales to our youngest children to give them hope, we certainly need to read this with middle graders to encourage them.