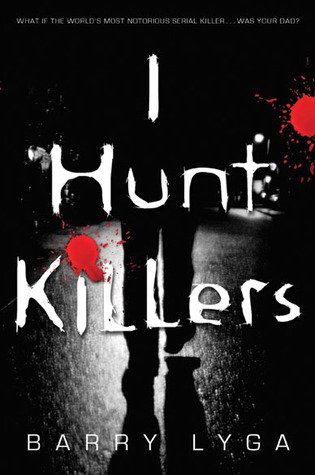 I Hunt Killers
Barry Lyga
Little Brown And Company
From Goodreads: What if the world's worst serial killer...was your dad?

Jasper "Jazz" Dent is a likable teenager. A charmer, one might say.

But he's also the son of the world's most infamous serial killer, and for Dear Old Dad, Take Your Son to Work Day was year-round. Jazz has witnessed crime scenes the way cops wish they could—from the criminal's point of view.

And now bodies are piling up in Lobo's Nod.

In an effort to clear his name, Jazz joins the police in a hunt for a new serial killer. But Jazz has a secret—could he be more like his father than anyone knows?
My Review:
Okay, get ready now because I am going too gush. LOVED this story. I have had this book on my shelf since it was released and was waiting for the third book to start them because I knew I would want to marathon them and I was right to wait. This book blew me away and kept me wanting more. I am a big fan of adult mysteries that feature a serial killer and was not expecting to find the same in young adult but this book has done it. At times I forgot that this was considered a YA book I was pulled into the story and did not want to stop reading, I could not stop reading. What an amazing psychological thriller and mystery that will keep anyone reading for hours. If I could give this more than 5 stars I would have.