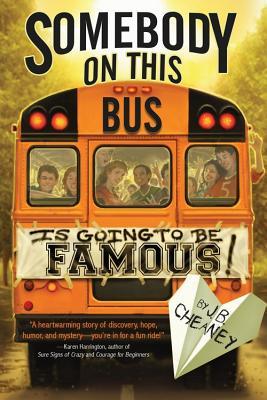 Some Boy On This Bus Is Going To Be Famous !
J. B. Cheaney
Sourcebooks Jabberwocky
From Goodreads :
Nine ordinary kids ride the same yellow school bus every day-but only one of them is about to be famous.

Each of the nine students on Mrs. B's school bus holds a clue to the mystery of the empty bus stop. Spencer's the smart kid. Shellly's the diva. Matthew's just average (so far). In fact, there's nothing about any of the nine middle-schoolers on Mrs. B's bus route that screams "fame," but before the end of the school year, somebody on this bus is going to be famous.
My Review:
I received a free copy of this book from Netgalley in exchange for my honest review. I would also like to thank the author and Sourcebooks Jabberwocky
This was a delightful read and different. I have never read a book with nine different perspectives before and thou I though it would be confusing and I would get everyone mixed up. I did not because each character is unique and memorable in their own way. With mystery and action laced through out the story this was a wonderful tale and entertaining read. I must admit I did try to guess who was going to be famous and guessed wrong every time I still enjoyed the adventure and the story of these nine kids pulling together and saving the day when it matters.